by Paul Jepson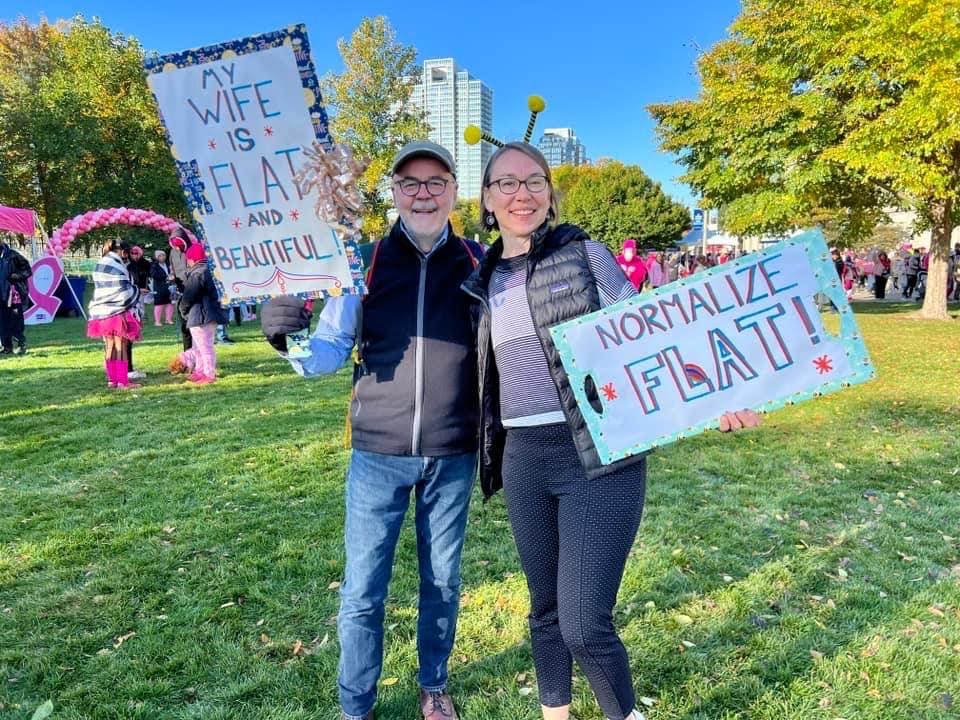 Walking out the elevator of a Chicago hotel with my flat partner, Katie, I was caught up in one of those sudden rushes of emotion as she was met by a tidal wave of greetings from women who had only one thing in common: their flatness following mastectomy. It brought home the deep and significant emotional bond that unites ladies who all share a sense of connectedness through their surgeries, despite wildly differing journeys.
As a bloke, I have marveled at how important, even essential, this community is for Katie. The abundant joy that erupts from the group when they meet, the exchange of stories, and whatever the term is for collective empathy-support-love-and instant friendship. I have also marveled at the sheer relief, openness and lack of inhibition among participants, which reinforces for me, as Katie's partner, what a complex and unfathomable change has taken place. This community is important for both of us – it decodes our emotions, and brings unexpected enlightenment.
Stand Tall AFC has achieved the remarkable feat of catalyzing development of a committed community of breast cancer survivors and their partners, and as one of those partners, I have felt welcomed, and also an important part of this beautiful assembly. And I use the term beautiful advisedly – Katie, having chosen aesthetic flat closure, knew she had made the right decision for herself, and as her partner I was honored to create a poster for the march that proclaimed by wife to be flat and beautiful!
I have traveled the world, and the only thing that comes close to this in my own experience is the welcome and hospitality that is shown when arriving in really isolated communities – we are incredibly gifted as a species when it comes to sharing and being generous in places where life is hard, but we seem to do less well when we get stuck in our cozy norms.
Both cancer and the decision to be flat need to be normalized and embraced, and at the heart of this is freedom of choice and access – the exuberant and impregnable community of flat women that is evolving is a catalyst for change! So, I truly celebrate their collective mission to get out there, march, be seen, make noise!
So, thank you for letting me be a sign writer, appreciator, marcher, participant, and friend: and, to other partners out there, joining-in will enrich your life and help to further normalize flatness as a choice.